Hendry at Home Virtual Tasting Series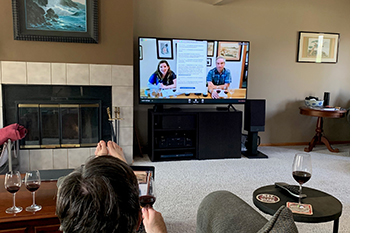 Longing for a visit to Hendry? We've got something for that!
Presenting the "Hendry at Home" Virtual Tasting Series.
In each episode, Hendry's own, highly-engaging Megan Carter (WSET Level 3), and resident historian and vineyard manager Mike Hendry set about delving deeper into some much-asked questions, in the classic Hendry style—educational, approachable, and accented by good wine, of course! Each video was recorded live with audience chat participation.
Browse the whole series of virtual tasting videos below. No purchase is necessary for viewing, but if you would like to taste along with what we're tasting, all the wines are available here on our website, and listed with each episode below. Make an evening of it!
We'll look forward to hosting you live and in person at the winery soon!
---
aVAILABLE EPISODES
(Listed here from most recent to earlier recordings. Videos can be viewed in any order.)
EPISODE 13: DEMYSTIFYING FOOD AND WINE PAIRINGS WATCH VIDEO
Featuring: Barrel Fermented Chardonnay & Blocks 7&22 Zinfandel Purchase Wines
Long-time Hendry fans will know that we love food and wine together, and anyone who has taken George Hendry's Seminar has been schooled in the relationship between fat and tannin. But what about the other elements of a meal? We'll dive into how things like sugar, heat, salt and acid impact wine, and vice versa. And since it 'tis the season, we'll wrap up with some of our favorite holiday food and wine pairings! You will need one red and one white wine, not necessarily the ones we've chosen. Other supplies: a lemon wedge, salt, olive oil and or cheese, something spicy, and something sweet that is not chocolate. Optional: milk chocolate, and a dark chocolate with at least 70% cacao. (Recorded live 12/18/20)
---
EPISODE 12: THE SCIENCE OF SENSORY ANALYSIS WATCH VIDEO
Featuring: Malbec & RED Purchase Wines
We've all seen them – the fantastical descriptors on the back of wine bottles that evoke lush tropical rainforests, dusty old libraries, and sun-kissed French fields. But how on earth do people actually come up with those descriptors? Is there any method to the madness? And is there any way to find consensus? We'll talk about some of the meaningful methodologies used by scientists in sensory analysis, and conduct a few little experiments of our own. (Recorded live 11/20/20)
---
EPISODE 11: THE WILD WORLD OF FERMENTATIONS WATCH VIDEO
Featuring: Barrel Fermented Chardonnay + Pinot Noir Purchase Wines
Once the fruit is in, Jan Miller gets to work. Think winemaking is as simple as throwing some yeast in a tank with grapes? Think again! Jan will join us to talk about all of the decisions she and George Hendry make during this stage of winemaking – from yeast strain and tank temperature, to press fractions and maceration time. We'll then sample two wines whose fermentation processes are quite distinctive, and discuss why we approach these wines the way we do. (Recorded live 10/23/20)
---
EPISODE 10: HARVEST AND THE 2020 VINTAGE WATCH VIDEO
Featuring: Unoaked Chardonnay + Cabernet Sauvignon Purchase Wines
The Hendry harvest is in full swing – and what a harvest it has been! It started on August 19 with the picking of Block 20 Chardonnay and we expect to be picking through the end of the September. While this harvest season has certainly been memorable (record-breaking temperatures, smoke!), it is the entirety of the growing season – and in fact, even elements of the prior year – that influences the fruit and resulting wine. We'll chat about key aspects of this vintage, and taste two wines that have the honor of being bookends to our annual harvest. (Recorded live 10/16/20)
---
EPISODE 9: MAILBAG EPISODE - YOUR QUESTIONS ANSWERED! WATCH VIDEO
Featuring: Albariño & Block 28 Zinfandel Purchase Wines
What is the one thing about wine that has always perplexed you? What part of grape growing still remains a mystery? And just what is George Hendry's favorite wine? In this episode, Mike and Megan will review YOUR questions on a broad range of topics related to winemaking, tasting, farming, and the Hendry Ranch. (Recorded live 5/29/2020.)
---
EPISODE 8: HARVEST AND WINEMAKING WATCH VIDEO
Featuring: Barrel Fermented Chardonnay & RED Purchase Wines
As summer winds to an end, the Napa Valley gears up for harvest. How do we decide when to pick? What happens to the fruit once it arrives at the winery? We'll follow the journey of the grape from vineyard to barrel to bottle. (Recorded live 5/22/2020.)
---
EPISODE 7: GRAPE FARMING - AN ANNUAL CYCLE WATCH VIDEO
Featuring: Pinot Noir & Malbec Purchase Wines
The Hendry family has been farming their property in Napa for over 80 years. What does a typical year on the ranch look like? No one is better equipped to walk us through the Hendry approach to farming than Mike Hendry, our vineyard manager. In this episode, we will discuss a variety of things we consider when striving to produce high quality wine grapes worthy of the Hendry label! Topics: clones; pests & diseases; meet the team; crop yields, timing of activities. (Recorded live 5/15/20)
---
EPISODE 6: HENDRY HISTORY WATCH VIDEO
Featuring: Primitivo & Blocks 7&22 Zinfandel Purchase Wines
Grab a glass and go back in time with us – to the mid-1850s, when some of Napa's first vineyards were planted on what is today the Hendry Ranch. As we drink our way through the decades, we will touch on key moments in both Hendry winery and family history. Whether you are a new friend of Hendry or have been with us from the beginning, there will be fun history to explore! Optional: 2017 Mike & Molly Hendry Zinfandel. (Recorded live 5/8/2020)
---
EPISODE 5: LIGHT AND BRIGHT - SPRINGTIME WINES WATCH VIDEO
Featuring: Albariño & Unoaked Chardonnay Purchase Wines
By May, our thoughts turn to warmer weather and lighter food. Taste these refreshing light wines with us and learn about the origins of Albariño, its history in California and where we grow it on the Hendry Ranch. We'll then shift gears to talk about how we approach our Unoaked Chardonnay and share some fun facts about one of the world's most widely planted white grapes. Bonus Wine: 2018 Rose (Recorded live 5/1/2020)
---
EPISODE 4: CABERNET COMPARISON WATCH VIDEO
Featuring: 2005 Cabernet Sauvignon & 2015 Cabernet Sauvignon Purchase Wines
We've recently re-released our 2005 Cabernet Sauvignon. It is still drinking beautifully, and is a great example of why Napa Valley Cabernet is so beloved. We'll compare this vintage to the current release from 2015, and talk about differences and similarities between the two years and wines. (Recorded live 4/24/20)
---
EPISODE 3: CLIMATE & BURGUNDIAN GRAPES IN NAPA WATCH VIDEO
Featuring: Pinot Noir & Barrel Fermented Chardonnay Purchase Wines
We often hear people observe that they don't see a lot of Pinot Noir in Napa, and are intrigued to try ours. Truth be told, there used to be quite a bit of Pinot Noir in the valley. We'll discuss climate and our approach to Pinot and its white Burgundian counterpart, Chardonnay. Complete with maps and data! (Recorded live 4/17/20)
---
EPISODE 2: EXPLORING OUR ROOTS - ZINFANDEL WATCH VIDEO
Featuring: Blocks 7&22 Zinfandel and Block 28 Zinfandel Purchase Wines
Zinfandel is a perennial favorite here at Hendry, and one of the original grapes planted on the property. Join us as we discuss the history of "America's Heritage Grape" and compare our two classic Zinfandel bottlings. Lively food-pairing discussion and Q&A, with a special thank you from George and wine club shout-outs from Angela. (Recorded live 4/10/20)
---
EPISODE 1: BORDEAUX BLENDS AND VARIETIES WATCH VIDEO
Featuring: Hendry RED, and/or any of the following: Malbec, Merlot, Cabernet Franc, Petit Verdot, Cabernet Sauvignon Purchase Wines
Many folks are familiar with Cabernet Sauvignon and Merlot – the typical backbones of Bordeaux blends, and popular grapes here in Napa. But what do you know about the other component grapes? We'll explore the individual characteristics of Cabernet Franc, Petit Verdot and Malbec, as well as what they each contribute to a blend. If you have one, pour a glass of the Hendry RED (or any red wine, frankly!) and join us for a fun discussion. (Recorded live 4/3/20)
---
Vineyard Manager Mike Hendry gives a thoughtful overview of Zinfandel, its history and role on the Hendry Ranch. VIEW VIDEO
More from Mike about the Hendry vineyard. VIEW VIDEO
Mike Hendry talks about the history of the Hendry Ranch, its location, and its place in the valley. VIEW VIDEO
Our vineyard-based philosophy of winemaking VIEW VIDEO
Mike chats about the crew. VIEW VIDEO
Join the crew for some spring pruning among the mustard blossoms: VIEW VIDEO
Hendry harvest in all its glory, film by Andrew Hendry: VIEW VIDEO