Margaret's Story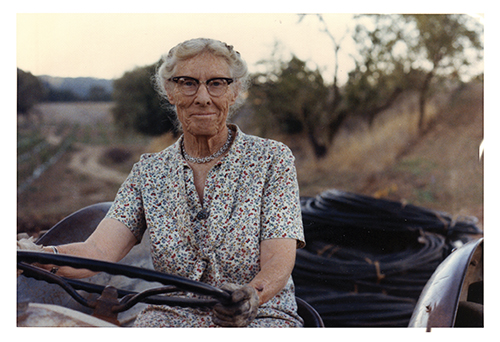 Margaret Munn Hendry
1901 - 1991
At Hendry, we are proud of the fact that we have owned and farmed our land for more than 80 years. No one deserves more credit for this accomplishment than Margaret Hendry. By herself, she maintained the ranch, raised her two children, and cared for her father through the difficult decades of the 40s and 50s.
Margaret and George Whiting Hendry purchased the former Buhman Ranch and moved from their home in Point Richmond to Napa in 1939. With them came their sons Andrew and George (one a baby and the other a toddler) and Margaret's father Harry. For Margaret, who had studied music and worked as a teacher, the transition to life on a ranch was not easy. At the time, there was no reliable water source for the house and no reliable bridge across Redwood Creek to get there. The house, heated with wood and built more than 60 years earlier, was in need of major repair. George, an agronomy professor, spent most of the week in either Berkeley or Davis, and Margaret was often left alone to care for the ranch, two young children, and her father.
By 1941, a reliable well had been dug, a new bridge had been built, and the house had been renovated. The annual cycle of pruning and harvesting the grapes and prunes was becoming familiar, as was milking, calving and feeding the livestock. Life on the ranch was more comfortable.
Then, in the spring of 1944, Margaret's husband George suffered an unexpected and fatal heart attack. Margaret was left with the ranch, three dependents and no help or outside income. It was expected by many that she would sell the ranch, but she didn't. Somehow, in the difficult decades that followed, she managed. If not for her hard work and dedication to preserving her children's and grandchildren's inheritance, Hendry Ranch would not exist.
What follows is an account of her life and a tribute to her character written by her son Andrew Hendry (1939-2013).

Our mother was born at home in East Orange, New Jersey in 1901. She was the second of four siblings. Her early years were spent in East Orange, where the family lived in a civil war vintage farm house. Mother's father Harry was a coal broker and, at the time of her birth, that business was booming. Family fortunes soon took a turn for the worse. Harry's business dwindled as oil replaced coal, and our mother's mother, Mabelle, died of kidney failure in 1906. Unable to cope with the loss of his wife and the decline of his business, Harry could no longer care for the children.
One of the children's aunts, another Margaret Munn, lived with her husband John Wade in Chico, California. Aunt Daisy and Uncle Jack, as we called them, agreed to take all four children. When they came to California early in the summer of 1912, our mother was eleven years old.
The next year, Uncle Jack operated a gold dredge on the Klamath River in Northern California. Some of our mother's first memories of California were of the wagon ride north from Chico to the Klamath River, a long journey in a horse-drawn wagon. Mother told us many stories, with vivid descriptions of that country before the coming of paved roads and automobiles. Ultimately, the gold dredging operation was not profitable, and Uncle Jack, Aunt Daisy and the children settled on Chestnut Street in San Francisco.
Mother went to school in San Francisco and excelled in her studies. In addition, she showed considerable talent for music, particularly the violin. Following her high school graduation, she traveled back to the east coast to study at the Institute of Musical Art in New York (now the Juliard School of Music). Again she excelled, but her studies were interrupted by illness, the deadly flu of 1918. This protracted illness left her unable to continue at the Institute, and she returned to California.
After her recovery, she completed a training program at San Jose State Teachers College. Her first teaching job was in a junior high school in Petaluma where she taught Music, Mathematics and English. Saving her money, she enrolled at UC Berkeley and in 1927, graduated with a Bachelor of Arts degree with a major in Education. She continued to teach in Petaluma and San Anselmo, and later established Greenwood School, a private, academic, elementary school in Berkeley. At Greenwood, her students were the sons and daughters of university personnel, and through them, she met our father. George Whiting Hendry had long been a bachelor and at the time he proposed, he was 47. Our mother was just two months short of her 32nd birthday. The years following their marriage were good years with many joys and accomplishments. They built a new home in Point Richmond. Pursuing one of George's hobbies, they traveled California to research and document old adobe buildings. They also had two children. Their first, my brother George, was born in 1937. I was born in 1939.
In the summer of 1937, an event occurred that changed our lives, and revealed a lot about Mother's personality. George was born in June and Mother was still in the hospital when word came that her two sisters, who now lived together in New York City, had placed their father Harry in an "old folks home". Mother left the hospital immediately, hired a wet nurse to care for George and took the next train to New York. She secured his release, and brought him back to California. He was 69. She cared for him until his death in Napa in 1962 at age 93.
Our parents moved to Napa in April of 1939. The first years at the ranch were a new experience for our mother. She had two very small children, a husband who was away four days a week, and a huge old house in poor condition. By June of that first year the ranch's five hand-dug wells were all dry. Each day, Mother traveled to springs on Mt Veeder and hauled water in two ten-gallon milk cans in the trunk of her car. That water was for everything - cooking, bathing and washing diapers from two babies. When winter came, the creek washed out the bridge and Mother carried groceries and babies on a single tree felled across the creek. The rotten timbers under the porch broke. Wind whistled through poorly fitted doors.
Cooking was done on a huge cast-iron stove. Fireplaces provided the only heat. There were horses, mules, cows and pigs. There were chickens, ducks and guinea fowl. There were dogs. Each had to be cared for. She carried one baby and the other toddled around behind her, but all the chores got done, every day.
In time, there was a new well, and lots of water. In time there was a sturdy bridge. In time the walls were re-plastered and the porches fixed. Still, feeding the animals, milking the cows, and caring for the house, the children and her father meant long hard days for the small but resourceful woman. Each season the orchard and the vineyard were pruned and cultivated. Each year the fruit was harvested and hauled. Fences were mended and runaway stock was found and returned. Equipment was repaired, fallen trees were cleared and new calves were delivered. Our father was usually home only three days a week, so these tasks fell largely to our mother.
Then unexpectedly, in the spring of 1944, our father died of a heart attack. With his death, our mother was left without his income and his farming expertise. To everyone concerned, she appeared to lack the money, the resources, or the ability to care for herself, her father, her children and the ranch. Her only asset was the property and without exception, she was urged by friends and neighbors to sell. Her answer was always a resolute "No." To satisfy concerns about our welfare, she was required to find someone willing to guarantee our financial security. This was provided by a neighbor, Claude Hook, who operated a bird farm near the top of Mt. Veeder Road.
All of these skeptics failed to appreciate our mother's strength and determination. She did provide for us, our physical needs and our need for love and attention. She did provide for her father and she did maintain the ranch. There were many hours of toil. There were heartbreaks and disappointments but, over all of these, she was victorious. She paid the taxes, fed and clothed us and supported our interests, school work, and activities. She pruned and harvested the orchard and vineyard, and maintained the house. For a time, she taught at the small, one-room school on Mt. Veeder. She converted the second floor of our house to apartments for rent. She leased the pasture and the barn. She replaced the cows with goats. She expanded the vineyard, hand watering every vine. She canned and made preserves. Life went on.
Each year George and I received a gift on our birthdays and at Christmas. Each year she took us on some kind of trip - a real vacation. Usually it was to Lake Tahoe where we stayed with an old friend who had taught her music. There were special trips to Yosemite and Sequoia National Parks. Once we drove to Mexico over Christmas break. We took vacations, but we were also expected to do our part for the ranch. We learned to milk, to plow and to prune. We learned to cook, make beds and clean house. It was a full life, but a good life. Mother made it that way. We have since learned that by many standards, we were poor. We never felt poor. Ours was a rich life.
Mother believed that, next to love, and good health, a good education was her most important gift to us. From the first day of school she was there to help and encourage us. She demanded that our assignments be done accurately and on time. She read aloud to us after supper and so exposed us to the classics of literature and history. Mother felt so strongly about education that, in time, she took us out of the public school system and enrolled us in an academically oriented private school. Where she found the money we have never known for sure.
She insisted that we take advantage of our educational opportunities, and accepting this has paid big dividends for both George and me. It was always understood that we would go to college. George went to UC Berkeley and I went to UC Davis. Although it was unusual for her, she accepted the help of a distant relative to cover the costs. She made many sacrifices to pay for our education.
Mother raised us according to very clear ethical values. She taught us to accept responsibility for our failures as well as our successes. She taught us to be self reliant and to cope with difficult and trying circumstances. She taught us to believe in ourselves and to take pride, not in being the best, but in being our best. She taught us to act with honor and integrity. She taught us to respect others.
Eventually, the years of heavy work took a toll on her body. By 1960, her legs and hips were in constant pain, but she continued to work in the orchard and vineyard, she continued to cook, clean, wash, and care for the animals. It was not until both her sons were financially independent, and George had taken full control of the ranch work, that she at last consented to surgery. At age 69 she had the first of her hip joints replaced and a year and a half later, the second.
In the 1970's and 80's Mother could look back and see that her challenges had been met and her goals achieved. Her sons were grown, and prosperous. She had two grandchildren. The ranch was intact and George was expanding the vineyard. She had laid the foundations for her sons to succeed.
Few have accomplished as much as she did, against such odds. For her love and guidance, for her sacrifices and selflessness, we will be forever in her debt. Mother died April 8, 1991 in her home, on her ranch, content with the knowledge that she had done what she set out to do. We, her sons, will continue to hold before us her example as a guide to our lives and the challenges that we face. No mother has done more for her children than she did for us.
May we do as well as she.