Sciabica Spring Harvest Extra Virgin Olive Oil 500 ml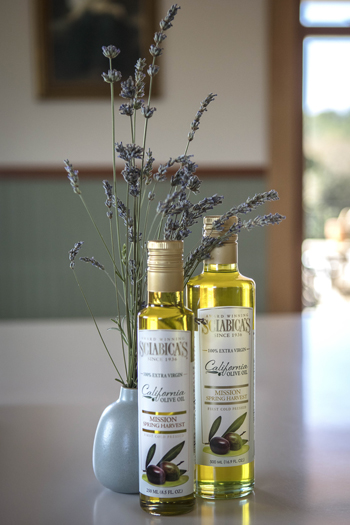 Yes! This is the delicious olive oil we pour in our tasting room daily. The Sciabica family has been farming olives in the Central Valley since 1936. The spring harvest of the Mission olive yields a golden, buttery olive oil with a milder, less peppery back-palate, perfect for accompanying our more tannic wines, or for use as a finishing or dipping oil.
500 ml/16.9 Fl. oz
100% Extra Virgin
First Cold Pressed
Here's what the Sciabica family has to say about the Mission Spring:
"Our Mission Variety Spring Harvest varietal olive oil has a lush buttery flavor, with a delicate underlying touch of sweetness and subtle notes of olive blossoms. Artisan-crafted from sun-ripened black olives, this brilliant golden oil is superb as a heart-healthy butter replacement, and enhances the flavor of pastry and cake preparation. Try using it with a touch of sea salt for buttery-flavored popcorn – without the butter!
Fully ripe Mission olives, the only native California variety, result in delicate, sweet flavors without the bitterness or pungency of the not-as-ripe early harvest. Only Mission variety olives have fully adapted to the California climate (many trees are well over 100 years old) allowing the olives to remain on the tree for several months after most producers have completed their crush – becoming ever riper and sweeter."
---