2018 Rosé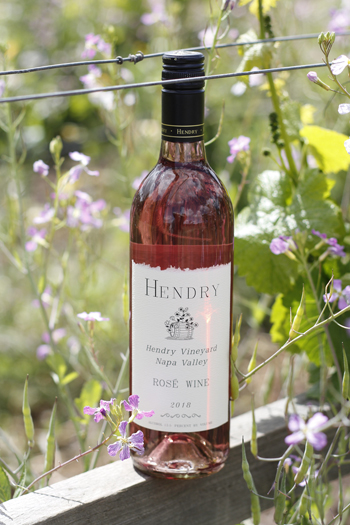 A dry rosé made from an eclectic blend of Hendry Ranch grapes. The blend changes each year, but is typically Zinfandel-based. The 2018 blend is: 46% Zinfandel, 33% Cabernet Sauvignon, 11% Primitivo and 10% Cabernet Franc, all from saignée.
Saignée is a French word for the process of "bleeding," or draining off, some of the sweet, free-run juice during the early stages of fermentation, when the grape skins are still soaking with the juice. This concentrates the phenolics (the colors, flavors and tannins) in the wine that remains in the tank, resulting in darker, more flavorful reds. The small amount of color absorbed from the skins in the juice that is helps to produce a light pink, dry rosé that is perfect for warm-weather drinking.
The wine was fermented entirely in stainless steel. A cool fermentation temperature of 50-59º was employed to preserve the bright fruit flavors. Though fruity, the wine is fermented to dryness, with less than .3 g/l residual sugar.
Distinctive medium-pink color. Bright, fruity strawberry and raspberry flavors. Tangy, juicy, with medium-high acidity. Enough body and a little bit of structure for a wide range of warm-weather foods. Barbecued chicken, grilled shrimp, prosciutto pizza, veggie plates, fish tacos…the list of pairings is infinite! A fun, fruit-forward, juicy wine.
---