2016 RED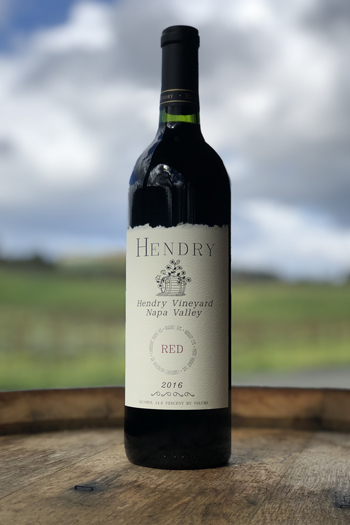 35% Malbec (Block 14)
27% Merlot (Block 13)
24% Petit Verdot (Block 15)
8% Cabernet Sauvignon (Block 8)
6% Cabernet Franc (Block 26)
The Hendry Vineyard is located on benchlands west of the town of Napa. The vines grow on thin, stony clay soil between 200 and 300 feet above sea level. Morning fog and strong afternoon breezes from San Pablo Bay moderate our climate. Our vineyard, which has been home to the Hendry family since 1939, is the sole source for grapes for all of our wines.
Our aim is to make a wine with a concentrated and balanced palate, complexity and longevity, but with softer tannins than our 100% Cabernet Sauvignon, which packs a powerful tannic punch for long-term aging.
In 2016, median budbreak in these blocks was March 15-29th, and bloom was between May 12th and the 19th. Veraison occurred July 21st through August 2nd, and harvest was August 31st through September 26th. These wines were aged for a total of 18 months in French oak barrels, approximately 70% of which were new.
Saturated, opaque ruby-purple color. Generous portions of Malbec, Merlot and Petit Verdot provide plenty of pigment density. Aromatically complex: herbal notes of sweet dried basil and tea leaves; dusty and dark fruit elements, reminiscent of dried/baked plums and cherries, accented by cinnamon, cedar and caramelized sugar.
On the palate, medium-heavy bodied. The abundant tannins pull up short at cellar temperature, but with air and/or food, the wine shows balance and deep, ripe cherry fruit. The balance of this wine, evenly distributed on the palate from front to middle to back, highlights George's deft hand with these varieties in the vineyard and in the cellar. Ready for drinking or cellaring, this wine will be ideal with rich, meaty dishes, from the grill or from the oven. From intense, dry cheeses, to pot roasts, to pastas with braised meat or game sauces, a versatile and robust wine.
Alcohol: %.
cases produced
TA: 6.6
pH: 3.66
VA:
---
Wine Specs
Alcohol: 14.8
TA: 6.6
VA: .73
Cases Produced: 938

Downloads