Sharing the Love - From a Safe Distance
March 23, 2020 - April 7, 2020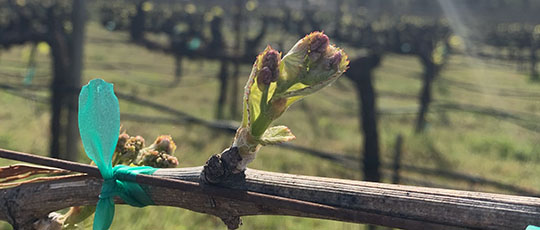 You are so great!
Just being here, on our site, means you are thinking about us, and about wine. We hope that you and yours are safe and well.
Here's what we're up to during this strange downtime: It's been raining, which is awesome. We needed that.
The vines don't sleep. Budbreak is happening, with us or without us. Luckily, the vineyard crew can still (separately) get out among the vines and keep up with pruning, mowing and plowing. Likewise, father-son team Rafa and Luis can continue their work in the cellar, as their family lives together, too.
Angela is here taking your calls and emails M-F. If you're local, and you'd like to pick up wine while you're out getting other essentials, curbside pickups are available! Just call, email, or place an order online, and we'll schedule a time for you to pick up on the front porch so you can swing by. Megan and Tamara are working on emails, education and sales, so be sure you're signed up for our email list (bottom of the page) and check us out on Facebook and Instagram.
If you'd like to send wine to relatives hunkering down in distant places, we can help with that, too! Our warehouse has organized their staff in smaller shifts to reduce contact, and is following the strictest protocols to keep everyone safe. We are offering a shipping special of $10 per shipment, regardless of the number of bottles. Pop over to the ORDER tab to see what we have going, or click on VISIT for a list of direct links.
Megan is working on some fun (and educational!) distractions, so stay tuned for news about virtual tastings you can do with us from the comfort of your living room! Virtual programming will be available in real time, and archived on our Facebook and Instagram accounts, so be sure to give us a follow and be on the lookout for those events!
And finally, if you need some food with your wine, don't forget to support these great local restaurants offering prepared food to go, and/or delivery service:
Celadon
Foodshed
Compline
Dutch Door
Southside (Carneros only)
Cook
Gott's
Farmstead
Brasswood
Mustards
Pizzeria Tra Vigne
Tre Posti
Villa Corona
Rosso Pizzeria (Santa Rosa)
Wine can still bring us together even as we are apart. Throughout this whole ordeal, we are all connected, and we'll get through it together!
Warm wishes from all of us at Hendry.
« Back to Events