Welcome Fall with Savings on Warming Hendry Zins!
November 1, 2019 - November 10, 2019
Welcome Fall with Warming Hendry Zins!
The weather is at last cool enough for easy ground shipping. That means it's also just right for ripe, warming wines with fall's hearty dinners. We have some delicious and unique Hendry-crafted Zinfandels to share with you– at special prices– from now through November 10th. To help with fire relief efforts in Sonoma County and throughout California, Hendry will also donate one dollar for every bottle of Zin and Primitivo sold to the California Community Fund's Wildfire Relief Fund. Thank you all for your concern and well-wishes!
Save on Zinfandel and Primitivo now through November 10th: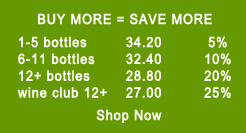 Bonus: $19.39 UPS ground shipping for 6-12 bottles!
---
Here in Napa County, we are grateful that fire has continued to be kept at bay, far outside our borders. Thanks to the diligence of firefighters in Sonoma County to the north, we have been relatively unaffected. Containment numbers are improving daily, and have passed the halfway mark. The dangerously high winds have slowed to light breezes, and we have blue skies again in the city of Napa. Power will soon be restored here at the ranch, and we'll be able to switch off the humming generator that's kept us open, and our tanks cooled through the week. (If anyone has some extra rain, though, please send it our way!)
From all of us at Hendry, thanks for your continued support!
« Back to Events