2017 Rosé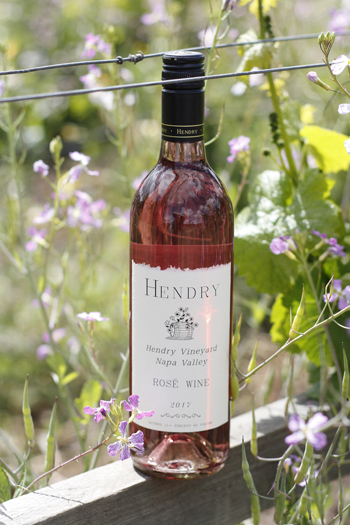 A dry rosé made from an eclectic blend of Hendry Ranch grapes. The blend changes each year, but is typically Zinfandel-based. This year's blend is: 41% Zinfandel, 20% Cabernet Sauvignon, 14% Pinot Noir, 13% Primitivo, 7% Malbec and 5% Merlot.
Saignée is a French word for the process of "bleeding," or draining off some of the still sweet, free-run juice during the early stages of fermentation, when the grapes are still soaking in their skins. This concentrates the phenolics (the colors, flavors and tannins) in the wine that remains in the tank, resulting in darker, more flavorful reds. As a bonus, the small amount of color absorbed from the skins helps to produce a light pink, dry rosé that is perfect for warm-weather drinking.
The wine was fermented entirely in stainless steel. A cool fermentation temperature of 50-59º was employed to preserve the bright fruit flavors. Though fruity, the wine is fermented to dryness, with less than .3 g/l residual sugar.
Distinctive deep pink color. Bright red berry fruit with floral notes. Flavors include tangy strawberry, raspberry, nectarine, dried and fresh apricot. Serve chilled (ideally with your toes nestled in the sand) accompanied by grilled shrimp and chicken, cold salads, grilled vegetable frittata or even paella.
---
Wine Specs
Alcohol: 13.4%
TA: 6.47
VA: .37
Cases Produced: 730

Downloads