2013 Blocks 7&22 Zinfandel Magnum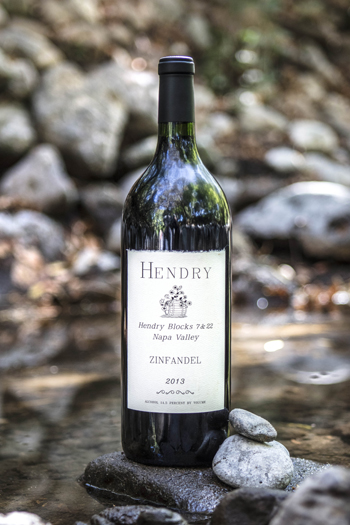 Hendry blocks 7 and 22 are located on benchlands west of the town of Napa. The nine acres are between 230 and 300 feet above sea level and have thin, stony Boomer series soils. The maritime climate is moderated by morning fog and strong afternoon breezes from San Pablo Bay. Block 7 was planted in 1975 to clone 2 Zinfandel. Block 22 was planted in 1995, also to clone 2. The vines are spaced 8' x 10', cordon trained and spur pruned. A three-wire trellis system supports the cordon and the canopy.
In 2013, median bloom occurred May 16th, median veraison August 8, and both blocks were harvested on September 11. Average production was 3.39 tons per acre.
The alcoholic fermentation was completed in approximately ten days in closed stainless steel fermentation tanks. The wine was then pressed and put into barrels for malolactic fermentation. Aging for the 7&22 is fifteen months in French oak barrels, approximately one-third of which are new each vintage.
Dry conditions in both 2012 and 2013 resulted in less available moisture in the soil, and our early tastings confirm that this resulted in exceptionally concentrated, slightly higher tannin wine in the Zinfandels. Initial aromas of berries, cherries, tea and smoke. Both this wine and the 2013 Block 28 are thick and dark purple, with concentrated dark berry fruit and significant tannins. This wine will benefit from cellaring, at least 6 months, or thorough decanting. Serve with hearty fare.
---
Wine Specs
Alcohol: 14.5
TA: 6.2
VA: .99

Downloads