Trio of Hendry 2014 Zinfandels in Wood Gift Box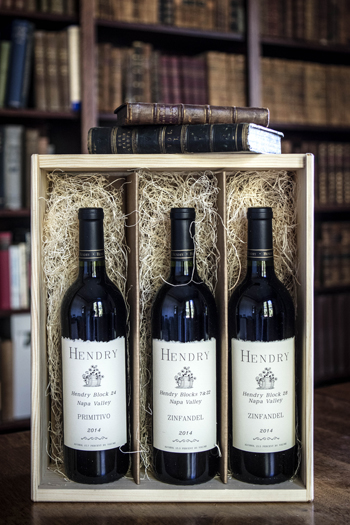 Explore the Hendry Zinfandel family's just-released 2014 Vintage with this wood box set of three bottles: Blocks 7&22 Zinfandel, Block 28 Zinfandel, and Block 24 Primitivo.
Tasting Notes:
2014 Blocks 7&22 Zinfandel
Pretty ruby color. Soft, spicy aromas of cherry syrup, bay leaf, sweet tobacco and spice. Light to medium bodied, with fairly subdued tannins. Flavors of red fruit and jam, herbs, mint and baking chocolate. After a dark, burly and brooding 2013 vintage, Blocks 7&22 again takes a more familiar, softer, spicier form, one we affectionately call a "pinot-lovers zin." A whole chicken, roasted with plenty of rosemary, thyme, salt and garlic, would be a delicious pairing with this wine, as would pasta with sundried tomatoes, capers, anchovies and herbs—dishes high on flavor but moderate in fat.
2014 Block 28 Zinfandel
Ruby-purple color. Spicy, mouthwatering berry and cherry fruit on the nose, with an herbal, vinous aspect. Medium-bodied, pleasant, with fine-grained tannins. A spicy, herbal zin, with moderate levels of jammy, fruit. The 2014 Block 28 Zinfandel is a brighter, more herbal and spicy incarnation of this vineyard block than the concentrated, brooding 2013 wines.
Pairings: herbed and peppered beef tenderloin, flank steak with spinach and blue cheese, osso buco or lamb roasted with rosemary, thyme, wine, olive oil and a little tomato paste. Dark-barked dry-rubbed barbecued brisket. Oven-roasted tomatoes, onions and potatoes as a side dish to any richer meat. The moderate fruit, offset by balanced levels of tannins, will make this wine work with a wide range of flavorful foods.
Block 24 Primitivo
Deep ruby-purple color. Primitivo from the Hendry Ranch yields dense, purple-ruby wines, driven by pronounced deep berry fruit. Initial aromatics of berries, spice and jam in this wine. Soft, spicy fruit and semi-sweet chocolate on the palate, gentle tannins. Our favorite pairings for Primitivo are hard cheeses like Manchego or Pecorino-- mediterranean flavors that go big on flavor intensity but easy on the fat, and, of course, dark chocolate.
---