Hendry Library Cabernet Sauvignon Vertical Selection in Wood Gift Box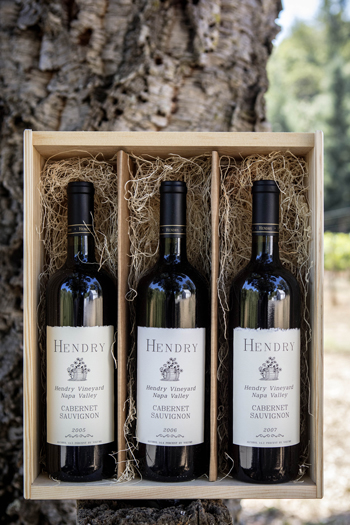 Start--or complete-- your Hendry Cabernet vertical collection with this trio of three outstanding vintages: 2005, 2006, and the newly re-released 2007. All three wines have been perfectly cellared here at the winery for a decade and are showing elegance, power, style, and the potential for further aging well into the next decade. A great gift, for yourself or someone else.
Release tasting notes:
2005: In 2005, the median bud break in Block 8 was March 31. In Block 16 and 17, it was April 6, bloom, May 31 and veraison August 7. In the younger blocks, bud break occurred April 2-4, bloom May 30 and veraison approximately August 4. The harvest was October 13-18 in Block 8, and October 3-7 in the younger blocks. Yields averaged 2.54 tons per acre throughout the Cabernet blocks.
Each year, George strives for a Cabernet with elegance and balance, and one which reflects the character of the vineyard and the vintage. This is the last of our 2005 wines to release, and it follows the tendency of the wines from this vintage to have a lush, deep, forward palate and dense aromatics. This young wine shows violets, licorice, chocolate, cigar box and cassis on the nose, with a full, velvety texture, dusty fine-grained tannins and a firm finish. 100% Cabernet Sauvignon. Aged for 18 months in 100% new French oak barrels. Drinkable now, with potential to cellar for 10+ years.
2006: In 2006, the median bud break was April 15- 17. Median bloom was June 4 and median veraison was August 9. Harvest was October 10 – 17. Yields averaged 2.2 tons per acre throughout the Cabernet blocks. After a warm extended maceration, the wine was aged for 21 months in 100% new French oak barrels. 100% Cabernet Sauvignon.
The majority of the grapes for this wine (54%) still come from the venerable Block 8, one of our oldest and most consistently distinctive blocks. Silky entry, surprisingly rich upon first opening, though patience is rewarded. Textbook Cabernet aromas of berry/currant, cocoa, mint, eucalyptus and cedary oak reveal themselves with time and air. Structured, fine-grained tannins make this wine a fine match for a rib-eye steak or other rich food. Drinkable now, with potential to cellar for 10+ years.
2007: Pretty, dark and supple. Initial aromas are dusty and almost floral, with enticing sweet fruit. An exceptionally balanced wine, showing plummy, deep, dark fruit aromas and flavors of berry/currant and cocoa. Well-integrated oak and firm, fine-grained tannins. Delicious and approachable now, with potential for cellaring.
---