2016 Rosé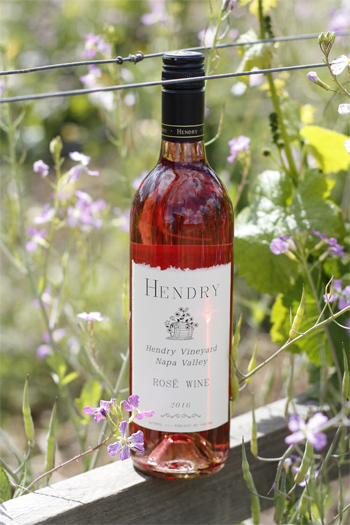 The 2016 Hendry Rosé is a dry wine with no residual sugar, which is the result of a saignée of a unique combination of varietals grown in our vineyard. The blend of varieties changes every year, typically a Zinfandel-focused wine, with the addition of Primitivo and Bordeaux varieties. This year's blend is: 48% Zinfandel, 19% Cabernet Sauvignon, 15.5% Primitivo, 15.5% Malbec, 2% Cabernet Franc.
Saignée is the process of "bleeding," allowing some of the sweet, free-run juice to run out of the tank and into a smaller tank during the early stages of fermentation, when the grapes are still soaking in their skins. This concentrates the phenolics–the colors, flavors and tannins–in the wines that remain in the tank, resulting in darker, more flavorful reds. As a bonus, a small amount of color absorbed from the skins produces a light, dry rosé that is perfect for warm-weather drinking. The wine was fermented entirely in stainless steel.
A cool fermentation temperature of 50-59º was employed to preserve the bright fruit flavors. It is important to note that this wine, though fruity, is fermented to dryness, with less than .3 g/l residual sugar.
Medium pink in color. Bright, fruity red-fruit and floral aromas. Creamy, pleasant mouthfeel. Flavors include strawberry, raspberry and nectarine skin. Less herbal and more creamy/fruity than some prior vintages. Destined to be enjoyed on sunny days, by the water (pool, lake, river or ocean, your pick!) with prosciutto and stone fruits, grilled shrimp, or other no-utensils needed light foods. Come on, sun!
---
Wine Specs
Alcohol: 13.7%
TA: 6.3
VA: .39
Cases Produced: 554

Downloads