2011 Petit Verdot Library Release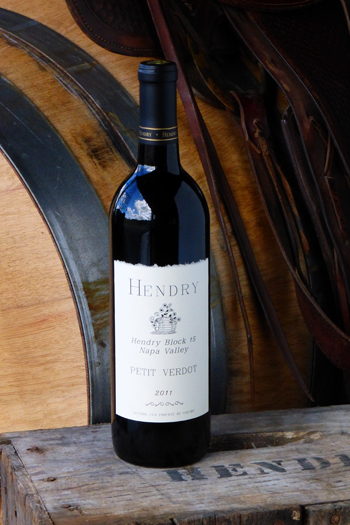 The Hendry Vineyard lies on gentle, rocky slopes between 150 and 300 feet in elevation. The style and structure of our wines is moderated by our location in a "transitional" climate zone, between the cooler Carneros region and the warmer Napa Valley. Cool breezes and fog from the northern end of the San Francisco bay move northward, gradually cooling the valley.
Block 15A and B are both planted with CTPS clone 400 of Petit Verdot, on St. George roots. The combined acreage of the blocks is 4.08 acres, totaling 5,122 vines. 15B was planted in 1997, followed by 15A, replanted in 2002 over an old Chardonnay block. In 2011, budbreak was April 2nd, bloom was June 11, and harvest was October 12.
This bottling was aged for 15 months in French oak barrels, approximately 55% of which were new.
We occasionally bottle very small quantities of the individual varietals used in our RED blend and release them on a limited basis. Single-varietal Hendry Petit Verdot has been released in only a handful of vintages.
Dark, saturated ruby color. Upon opening, subtle spicy oak. As in the 2010, another cool vintage, the fruit aromas and flavors are at first subtle, opening with air to a noticeable weight on the palate, with baking-cherry and currant fruit. Secondary flavors and aromas of cocoa, bittersweet chocolate and spice. Decanting recommended. Game or lean meats seasoned with garlic, soy and herbs—medium fat level/high flavor are George's suggestions for this interesting single varietal wine.
---
Wine Specs
Alcohol: 13.4
TA: 6.0
VA: .7
Cases Produced: Only 50

Downloads