2015 Albariño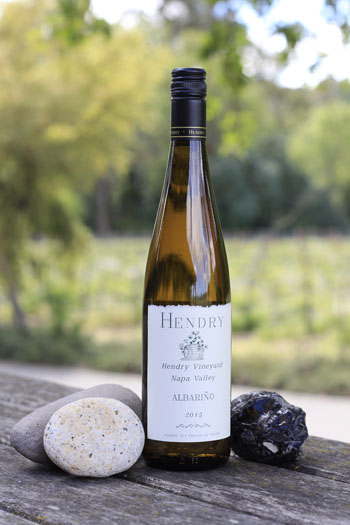 Hendry Blocks 2 and 9B are located on bench lands west of the town of Napa. Morning fog and afternoon breezes from the San Pablo Bay moderate the climate, creating a transitional climate zone between the cooler Carneros region and the warmer northern reaches of the Napa Valley.
The Albariño grape hails from the area of Galicia, in Northwest Spain, and was first planted in our Block 9B in 2003. George had tasted wines made from other vineyards nearby in Carneros, and liked the crisp, floral, high-acid flavors of the grape when grown in a climate zone similar to ours. Block 2, originally planted in 1997, was grafted over to Albariño from Pinot Gris in 2013. Budbreak in 2015 was between March 10 and 18, and bloom occurred between May 6 and 16. Harvest took place approximately September 5th.
For this variety, whole-cluster pressing is used. The juice was fermented in stainless steel at temperatures ranging from 56º to 59ºF. Cool fermentation ensures preservation of the bright, fresh fruit flavors, and often requires several weeks to complete. When alcoholic fermentation is completed, the wine remains in stainless steel until bottling.
Floral, herbal and peachy aromas. On the palate, tangy citrus, nectarine and passion fruit flavors reflect the bright acidity. A pretty, refreshing white, great as a first-course wine, and a lovely counterpoint to briny oysters, mussels or clams. There are many other pairing possibilities with this tasty, high-acid Spanish varietal: boquerones, a simple, seared white fish, or even a weeknight pan-seared chicken with olives and lemon zest.
---
Wine Specs
Alcohol: 13.7%

Downloads