2013 Block 24 Primitivo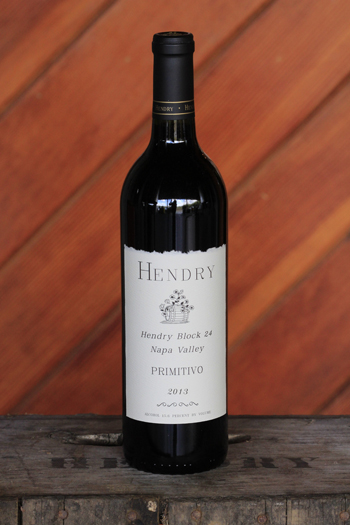 Hendry Block 24 is located on bench lands west of the town of Napa. This 1.96 acre block is approximately 200 feet above sea level and has thin, stony Boomer series soils. The maritime climate is moderated by morning fog and strong afternoon breezes from San Pablo Bay. The vines were planted in 1997 using St. George roots and grafted with U.C.D. Primitivo Clone 3. The vines are spaced 6.9' x 5', cordon trained and spur pruned. A vertical trellis system supports the cordon and the canopy.
In 2013, bud break in Block 24 occurred April 4th and 5th. Median bloom was May 15th. Harvest was September 9th and 10th with an average yield of 4.45 tons per acre. Alcoholic fermentation was completed in approximately ten days in closed stainless steel fermentation tanks. After completing alcoholic fermentation, the wine was pressed and put into barrels for malolactic fermentation. Aging was fifteen months in French oak barrels, approximately one third of which were new.
Dense purple-ruby in color. Spicy, smoky and deep berry on the nose. In addition to the typical rich, deep berry fruit of Primitivo, this vintage has a nice tannic edge, adding to its food-pairing versatility with richer meats and heavier foods. This is a Zin-lover's Primitivo vintage. Our favorite pairings for Primitivo are generally hard cheeses like Manchego or dense, dark chocolate, but this bottling will also be versatile with a wide range of hearty fare, especially grilled meats like Korean-style ribs.
---
Wine Specs
Alcohol: 15.7%
TA: 7.0
VA: .84
Cases Produced: 823

Downloads