2014 Mission - Limited Release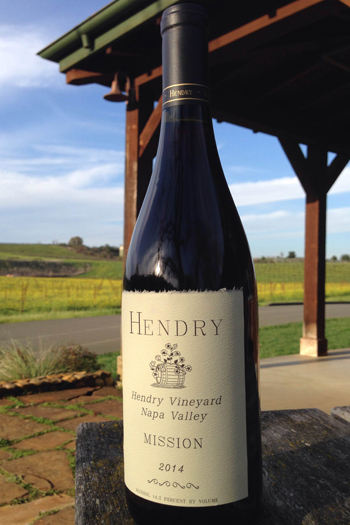 The Hendry vineyard lies on gentle, rocky slopes between 150 and 300 feet in elevation. The style and structure of our wines is moderated by cool breezes and fog from San Pablo Bay. Block 9D was planted to Cabernet Franc on St. George roots in 2003, and 80 of those vines were grafted over to the historic Mission variety in 2012. 50 more were added in 2015.
The Mission variety was introduced to the new world in the first half of the 16th century, and remained the principal wine grape of the Americas for more than 300 years. The vines were transported from Mexico in the 1770s and planted in mission vineyards, spreading with the establishment of each new mission settlement. They produced Napa's first wines in the 1840s.
Mission was first planted on the Hendry Ranch in the 1850s, but disappeared in the phylloxera epidemic of the late 1800s. Mission now represents less than 1000 acres of total plantings in the entire state. In 2007, DNA analysis demonstrated that the grape known in California as Mission was the same grape as Listán Prieto, an ancient Spanish variety now grown only in the Canary Islands.
---
Wine Specs
Alcohol: 14.2
TA: 5.53
VA: .67
Cases Produced: 30

Downloads